Downtown Blues Coffee
Menu
‣ Hot Coffee Cafe Du Monde & French Market cold brew coffee from NOLA.
‣ We serve fresh empanadas from local Las Cruces bakery Lujans Bakery. Try the "Blues-Berry".
‣ Legendary mini, Moon Pies (vanilla, chocolate and banana).
‣ Equal Exchange organic hot teas that include black, red (Rooibos), green, Manzanilla (Chamomile), Earl Grey, and Ginger. Served with local honey, agave or date syrup.
‣ We also have incredible Hot Cocoa topped with macadamia milk that warms your soul.
‣ Zapp's Voodo chips and Funyuns.
‣ Mazapan Mexican candy treat (Regular or chocolate covered).
‣ Canned & Bottled Pop – RC Cola, Cherry RC Cola, Big Red, 7UP, A&W Root beer, bottled Topo Chico, and Aquavista blue bottle drinking water, Hop Tea & Water, Red Bull, WaterLoo, Yoohoo, and Liquid Death mountain water.
‣ An elegant Iced Masala Chai made with Oatmilk
‣ Italian Sodas flavors include, Lime, Peach, Cherry, Watermelon, Blueberry, Raspberry, and French Vanilla and Irish Cream.
‣ A heavenly Iced Ceremonial Matcha.
‣ "New Mexico brewed Ice tea" sweet, un-sweet, or flavored with frozen fruit chunks such as raspberry, blueberry, peach and mango
‣ We have three wonderful roasters we work with including, local roaster Milagro Coffee -Y- Espresso from Las Cruces, NM who makes us our own delicious blend called Downtown Blues Blend. Also, you must try the Greeny Blues Blend out of McKinleyville, CA from a company called Muddy Waters Coffee Company, and of course Cafe Du Monde!
‣ We sell all three roasters by the cup, bag and can.
Cold Brew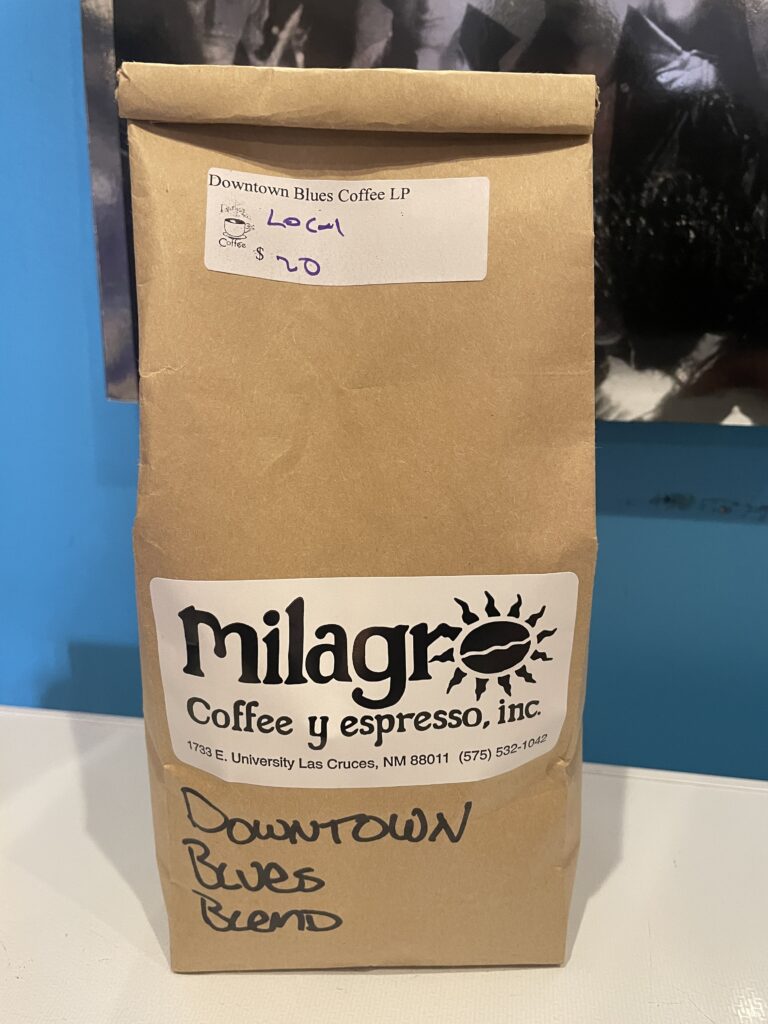 Downtown Blues Blend
"Greeny" Coffee